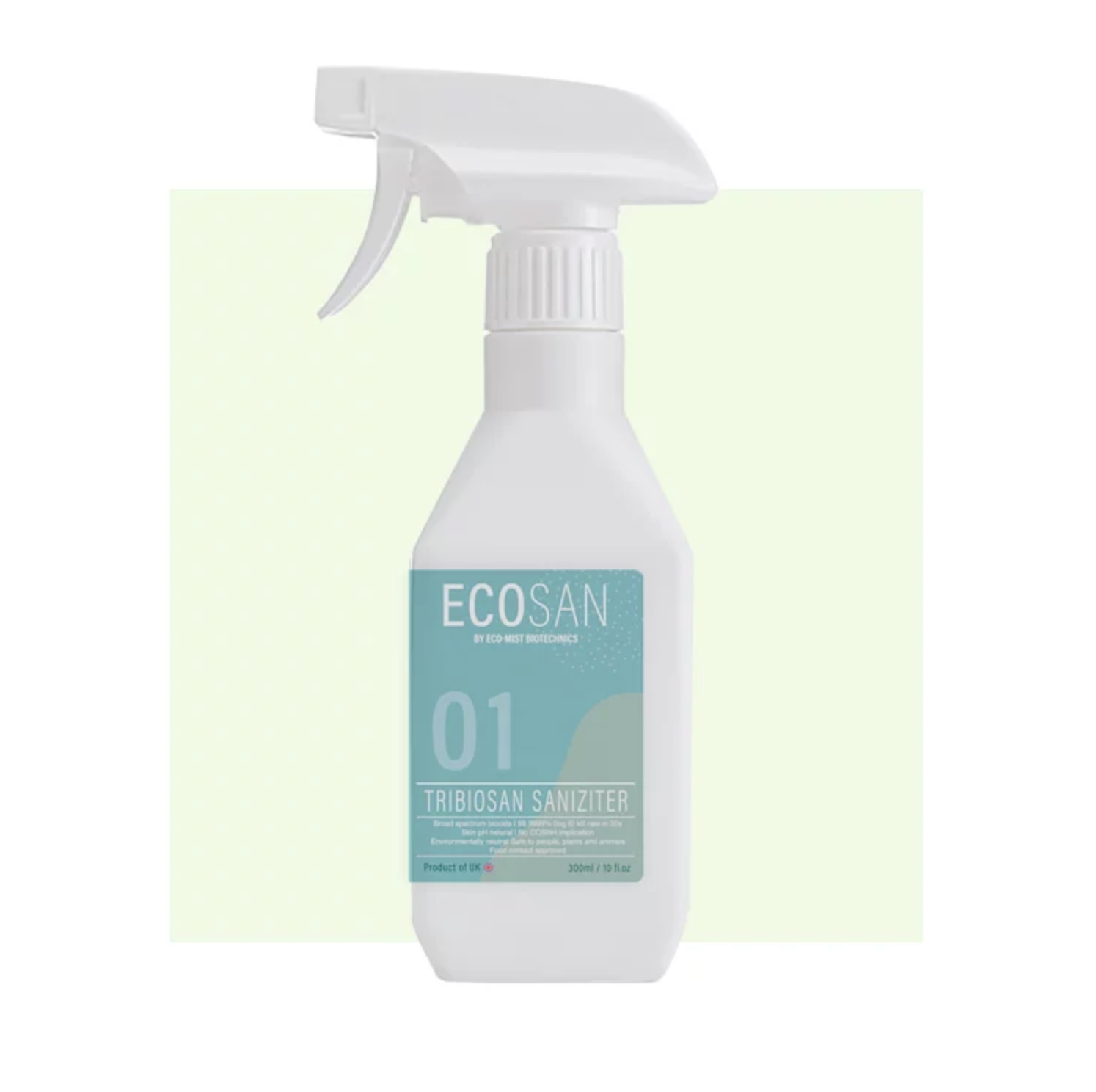 TriBioSan 是一種電化學活化溶液(ECAS), 由英國 Eco-Mist Biotechnics通過Centrego系統授權製造,獲美國國家環境保護局認可的實驗室測試認證,能有效殺滅99.9999%小型無包膜、被公認為「難以殺滅」的病毒(如人類諾羅病毒、小鼠諾如病毒MNV-1、脊髓灰質炎病毒CHAT Lsc1),而新型冠狀病毒則屬於較易殺滅的包膜病毒。

根據英格蘭西部大學一項研究中指出,由於孢子外在結構極為堅硬,成為最難殺滅的微生物之一,然而TriBioSan能有效殺滅99.999%孢子(如枯草芽孢桿菌)。針對一系列細菌、真菌孢子和病毒的殺菌特性研究顯示,ECAS能在短時間殺滅新型冠狀病毒﹐且再生率極低。亦有獨立實驗室針對諾羅病毒及脊髓灰質炎病毒作測試,顯示其殺菌效能達99.9999%。
TriBioSan 通過EN 1276:2019 認證,無毒且低過敏性,具酒精及抗菌型搓手液消毒功效;同時,TriBioSan經法國NFT測試嚴格檢定,能作霧化消毒,潔淨室內空間,對保持個人和環境衞生非常有效。
以下是英文版本:
TriBioSan is classed as an ECA solution, manufactured under license by Eco-Mist Biotechnics by Centrego systems and have been tested in a US EPA accredited laboratory where it has been proven to be 99.999% effective against small, non-enveloped viruses such as human norovirus Murine Norovirus MNV-1 (99.999% = Log5 reduction) and Poliovirus CHAT Lsc1 ( 99.9999% Log6 reduction). These results demonstrate the efficacy of TriBioSan against 'hard to kill' viruses. Covid-19, with an enveloped structure, is classified as an 'easier to kill to virus'. In addition, TriBioSan has been proven to be highly effective against spores (Bacillus subtilis, 99.999%, Log5 reduction). In research by the University West of England, Professor Reynolds states that spores are one of the most difficult microorganisms to kill, due to their hard-outer structures. These results are strong indicators that TriBioSan will be highly effective in killing Covid-19 virus.
"The best available science indicates that ECAS (the electrochemical activated solution) is effective against coronavirus," explains Professor Darren Reynolds (BSc, PhD), Professor of Health and Environment in the Department of Applied Sciences at The University of the West of England, Bristol. "There has been a lot of research looking into biocidal properties of ECAS, including its effect on a range of bacteria, fungal spores and viruses. Furthermore, this effectiveness can confidently be applied to the newly emerging virus SARS-CoV-2," he continued.
In practice, the solution has an extremely rapid contact times (almost instantaneous), a very high kill rate and very low regrowth rate. For example, tests undertaken by an independent accredited laboratory for the solution against norovirus and poliovirus – both standard methodologies for testing

biocides for viruses – showed log reductions of 5 (99.999%) and log 6 (99.9999%) respectively.
The solution is also certified to both EN 1276:2019 and EN 13607:2015, can be used to sanitise large areas. It's non-toxic and hypoallergenic, which means the disinfectant can be left on surfaces and will continue to kill. As it's safe, it can be used for personal hygiene in the same way as alcohol and antibacterial-based hand gels. TriBioSan can also be applied in mist form to disinfect whole rooms. It has been tested and exceeded the stringent French NFT test, for non-mechanical sanitising (misting) achieving a log4 reduction.